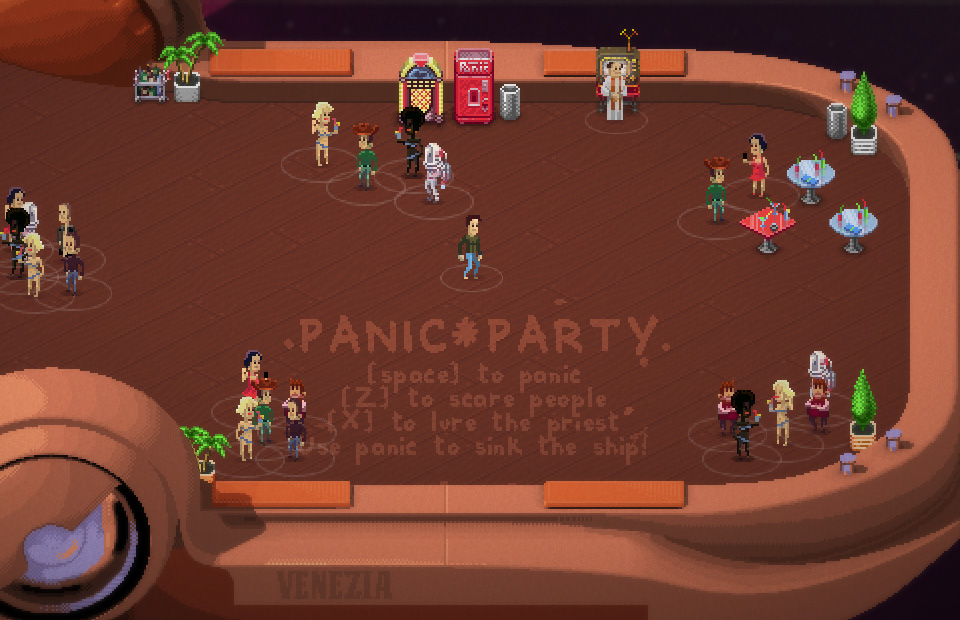 PANIC ★ PARTY
THis is a cHunk of something we afraid to call a "game", with only one lonely stage of total disgrace and humiliation for game designers.
It is pretty at lest.
Instruction:
[↑]
[←][↓][→] Walk
[Space] Panic
[Z] Scare
[X] Lure the Priest :)

/*Spoiler Priest Love to watch new Star Wars Trailer*/

You are the Panic Man on the space vessel travelling through the hyperspace. You need to raise the panic level of the passengers to destabilize the vessel and lead it to destruction.
You can raise the panic level of individuals or the groups while holding [space] button, which consumes stamina. You also can scare the crowd with [Z] button (costs 10 stamina). And watch for the priest - he calms down the most panicking groups. To avoid this you can use [X] button to lure the priest near the TV.
The game ends when enough people are panicking.
Design&Art&Code by Molecats Team (@bogimp, @weilard, @orangemagik)
Music by Mushroomer (www.mushroomer.net)
Download
Click download now to get access to the following files:
ld32_panic_party_build_win.zip
15 MB
ld32_panic_party_build_mac.zip
17 MB
ld32_panic_party_build_linux.zip
18 MB